II
Taking our live camera to the next level.
Mevo SaaS
Vimeo '18

Product Designer
Dan Highbrown

SVP R&D
Phil Worthington

Product Manager
Jed Meade

Engineering Manager
Gennadii Ivanov
Mevo is a palm-sized, live streaming camera, that enables professional level production from your phone. It was featured at F8 in 2016 as the first camera to stream to Facebook Live (
1:20:00
) and has an invested, growing userbase. When Livestream joined Vimeo it was immediately clear that we could bring the power and presence of the Vimeo platform to Mevo.
VIDEO
Two goals here: explain Vimeo's sudden presence in the app and project the value of creating an account with us. I chose the simplest route to introduce the acquisition of Mevo before prompting an unannounced login gate. Additionally, on the login we highlight the value in creating a free account with us: free cloud storage.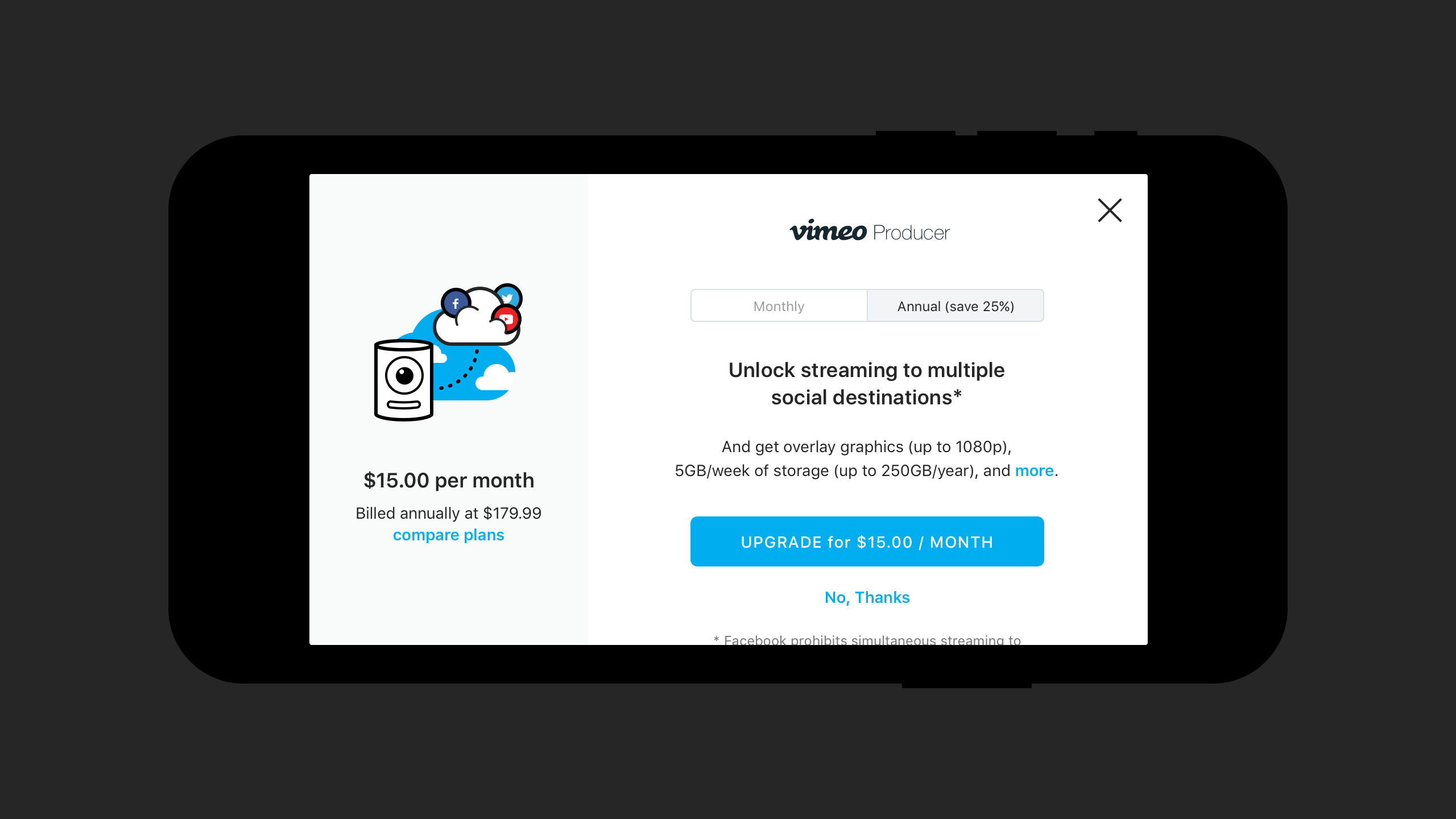 Simultaneous streaming requires a singular stream output to be sent to our cloud servers and then multiple streams sent out to the various locations. Offering a subscription plan allowed us to open up this functionality to our users.
Graphics on a stream add professionalism, branding and context. We built support for logos, lower thirds, fullscreen images, countdown timers, and slideshows.
Probably the most obvious feature to include is leveraging Vimeo's storage. Users can now seamlessly upload their streams and recordings to Vimeo and share them.
VIDEO
Responding to the results
Post-launch adoption rates were slightly lower than expected. We quickly followed up with a survey to learn more. After analyzing the results of the survey and our own mixpanel events, we came to a conclusion that there was an awareness issue (59% in the survey were unaware of the new plan). Additionally, of those that were aware, they wanted the ability to try the features first. Our response to this was to display an upsell earlier in the workflow, introduce a 7-day free trial and educate with campaigns outside of the app. Following these endeavors we saw a 28% increase to conversion rates.